Custom/Street Rod
---
Click the series buttons below for a list of available kits:
Builder Series
Complete Integrated Fuse Box Wiring System The Builder Series packs big power in a small panel! The Builder Series represents the next stage in Integrated Fuse Box Wiring. It is the perfect fit for those tight wiring spots in kit cars, roadsters, etc. It incorporates a slim fuse panel with mounting pads and an attached fuse panel cover with an inner label, identifying all circuits by description and fuse rating. All high output circuits incorporate the same superior spring steel reinforced terminals as used in the Highway Series wiring systems, making the Builder Series second to none in durability and reliability. The first wiring system in this line is the Builder 19.

Builder 19 Wiring System

learn more »

New Builder 19 Series Wiring Kit
510006

$429.00
Highway Series
The Highway Series is the most powerful and customizable wiring system produced by American Autowire. The Highway Series was developed to handle the most demanding power requirements and accessories. With the Highway Series, you the have the most flexibility in fusebox placement, and the freedom to customize your vehicle however you like. The Highway Series is perfect for street rod wiring, custom jobs, and projects that require more power than other systems can provide. Each Highway Series wiring kit comes with complete, easy to understand instructions to guide you through every step. Steps are divided into individual labeled bags, each containing everything you need to complete the step, keeping you organized and getting you on the road faster.

Image coming soon

Long Wire Trunk Mount Kit

learn more »

Long Wire Trunk Mount Kit - Highway 22
500839

$124.00

Highway 15 Nostalgia Wiring System

learn more »

Hwy 15 Nostalgia Kit
500944

$869.00

Highway 15 Complete Wiring System

learn more »

Highway 15 Wiring Kit
500703

$369.00

Highway 22 Complete Wiring System

learn more »

Highway 22 Panel Wiring Kit
500695

$459.00
Power Plus Series
Pre-wired • Economical Our newly updated POWER PLUS series is a complete Integrated Fuse Box Wiring System, combining a factory-style pre-wired fuse box with a new simplified installation approach. An Integrated Fuse Box System installation starts at the fuse box and each of the circuits are routed from the fuse box to their destination. By utilizing direct run technology to all major components with no disconnects, there is less work for you! In addition, Power Plus wiring systems now include new headlight and dimmer switches at no extra charge for your added convenience. We currently have two wiring systems in the line - Power Plus 13 and Power Plus 20.

Power Plus 13 Wiring System

learn more »

Power Plus 13 Wiring Kit
510004

$269.00

Power Plus 20 Wiring System

learn more »

Power Plus 20 Kit
510008

$299.00
Announcements:
Welcome to the new AmericanAutowire.com. If you find an issue or problem with the new website, we want to hear about it! Please
e-mail the webmaster
with your concerns, issues, and feedback.
American Autowire on Motorhead Garage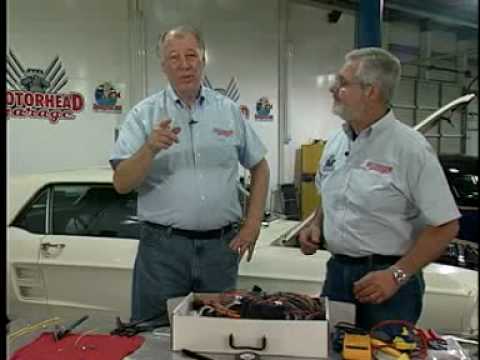 Our seminar starts in 25 min (1pm) in room 240 at the Hotrod & Restoration Show! Come up and see us!
Come see us this week at the @HRRMag Hotrod & Restoration Show! New booth display, new catalog...new look! Our seminar is tomorrow at 1pm!
Our new website goes live around NOON today! http://t.co/sAU1e3XA http://t.co/sAU1e3XA
American Autowire's offices will be closed on Mon, 12/31/12 & Tues, 1/1/13. We will reopen at 8am on Wed, 1/2/2013. Happy New Year everyone!
05/14/2013 Who is heading to the Good-Guys Nashville show this weekend??? Stop by our booth to pick up our new catalog and some information about 2 new Classic Update... [ read more ]
04/26/2013 On 5/20/2013, we will be releasing 2 new Classic Update kits!  The 1965 Chevy Impala and the 1966-68 Chevy Impala Classic Update kits are almost here!  S... [ read more ]
Get Updates & Special Offers
We Accept Payment By:
Contact Us:
Call: 800-482-9473
Mon-Fri 8am-5pm EST